Monthly Service Offer: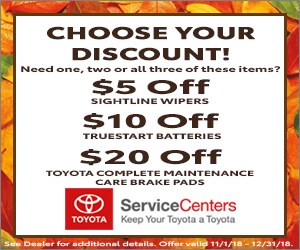 Toyota Service Department in Farmington
At Webb Toyota, our highly-qualified technicians are here to provide exceptional auto repair and Toyota service in a timely manner. From oil changes to transmission replacements, our mechanics are dedicated to maintaining top-tier customer service for both New and Used car buyers! We also repair vehicles with Toyota OEM parts, ensuring lasting, high-quality repairs. 
Allow our staff to demonstrate our commitment to excellence. If you're looking for ways to save, check out our current Service Specials we have available.
While you wait in our lobby please enjoy our free Wi-Fi, customer restrooms, free popcorn, bottled water, and coffee. We also have an area specifically for the kids to enjoy!  
Car Repair and Oil Changes in San Juan County, NM
SERVICE SPECIALS 
 Good
Cars and Midsize Trucks
Up to 6qts of Quality Mobil Oil
5W30 & 5W20
-Oil and filter change using genuine Toyota Oil Filter
-Check all fluid levels under the hood and fill washer fluid
-Inspect belts and hoses
-Check the pressure and set maintenance and tire light
Oil Change
$39.95 Plus Tax/$45.95 Plus Tax
For Full Size Trucks or SUVs
Better
Cars and mid-size trucks
Up to 6qts of quality mobil oil
5w30 & 5w20
-Oil and filter change using Genuine Toyota Oil Filter
-Check all fluid levels under the hood and replenish if needed
-Rotation of all four tires, check pressure and adjust
-Inspect tires for damage and excess wear
-Multi-point vehicle inspection and grease lubricant points
-Check front and rear differentials if applicable. Fluid extra
-Reset tire and maintenance light
-Wash windshield plus vacuum driver and passenger front
OIL CHANGE $59.95 plus tax/ Oil Change $65.95
For Full Size Trucks or SUVs
Best
Cars and midsize Trucks
Up To 6qts of Quality Moibil Oil
5W30 & 5W20
-Oil and filter change using genuine Toyota Oil Filter
-Check all fluid levels on complete vehicle and replenish if needed
-Rotation of all four tires, check tire pressures and adjust
-inspect tires for damage and excess wear
-Multi-point vehicle inspection and grease all lubrication points
-CHANGE ENGINE AND CABIN AIR FILTER USING GENUINE TOYOTA FILTERS
Satisfies Scheduled Maintenance Requirements for Most Models at Most Service Intervals
-Reset maintenance and tire light
-Was windshield plus vacuum driver and passenger front
Oil Change
$119.95 plus tax
Full Size Trucks or SUVs
$125.95 plus tax